---
keyboard_arrow_leftPrevious
Nextkeyboard_arrow_right
keyboard_arrow_leftPrevious
Nextkeyboard_arrow_right
CVS Ferrari container handlers and reach stackers are global leaders in the loading, unloading and stacking of shipping containers.
With extensive R&D spanning 40 years, built-in Italy and engineered to the highest standards possible (only reach stacker built to crane standards) they exceed expectations and deliver exceptional ROI in the long term. Quality and innovation have resulted in the worlds most sophisticated reach stackers and empty container handler range bar none. If its container handlers you need our experts can guide you as well as offer you personalised obligation free quotes
Designed around
the operator
Operating a container handler or a reach stacker can be extremely pressurised and stressful so we have ensured our cabs are built with superior visibility, great ergonomic design and comfort for the operator. A powerful aircon, USB and power ports and a sophisticated avionics style setup and computer make for an uncluttered cab that leads the category
Data-driven solutions drive exceptional ROI
This container lifter is clever too! Integration of machinery data and parameters provide real-time information to the driver which includes, driver assist, safety functions, system integrity protection, in-depth fault diagnostics, functional and operational recording as well as real-time key performance indicators. CVS Ferrari is offering a world first in masted container handlers with an all cable-driven eco version as well.
Masted container handlers and reach stackers rely on speed and efficiency to pay the bills. There are numerous reach stacker manufacturers but CVS Ferrari provides the most advanced solution for container handling. Lift Equipt are materials handling experts and the dealer for Ferrari forklifts in Australia. We provide data-driven solutions for all our equipment that can measure mast height, laden weight, range, engine parameters, KPI's and more, all remotely.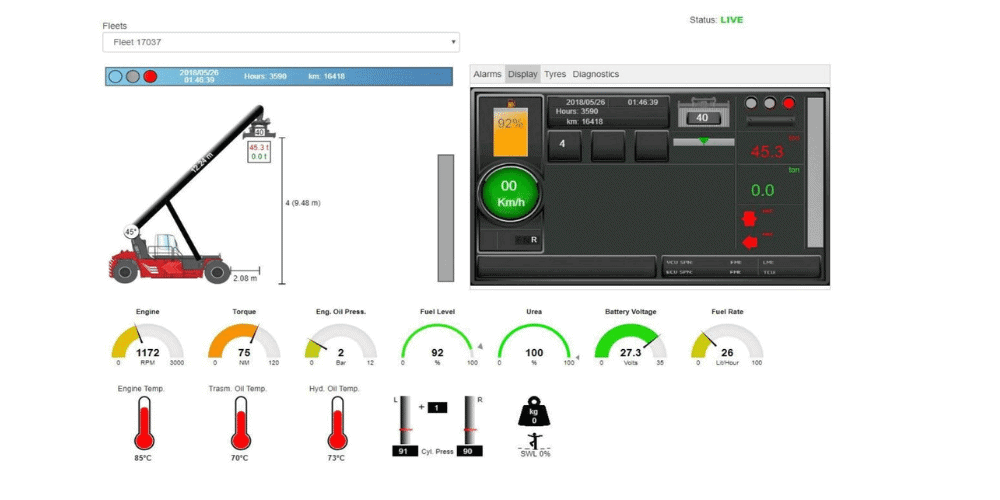 High capacity intermodal and bulk handling reach stackers
Container handling is a tricky game which requires a strong diesel forklift truck able to lift a laden container high above the ground and stack it on top of other containers. With a capacity up to 46 000kg and a lift height of 16.2 m the Ferrari F500 RS 6 is an extremely competent machine.  We provide solutions to ports and intermodal terminals and supply and service reach stackers to industries like steel, wind energy, and oil & gas. Our container handlers are data driven smart machines capable of working flawlessly in the most demanding conditions you can imagine.
The CVS Ferrari brand is unmatched when it comes to structural strength, durability, innovation and efficiency. The only machine in its class to be third-party certified DIN 15018 H2-B4 and built to crane standard the Ferrari trucks are revolutionary when it comes to pure strength and grunt.
Premium features include
Full CAN BUS electrical system
Military standard electric components
Enhanced hydraulic cooling
Hydraulic tank pressurisation
Stainless steel engine exhausts
Reduced service routine
Longest service intervals in the industry
Call the team at Lift Equipt today for the service you deserve at the home of container handlers in Western Australia.