Different types of forklifts

---
Firstly, what is a forklift? Well according to Wikipedia a lift truck, fork truck, fork hoist or forklift truck is a powered industrial type of truck used to lift and move materials over short distances. Used extensively in warehousing, logistics and manufacturing, various types of forklifts are available. Choosing the right type of forklift for your needs is crucial to operational effectiveness and return on investment. In this article, we will cover the following topics
What are the various forklift types available today? With a wide range of forklifts on offer from a wide range of suppliers, how does one choose which types of forklift is suitable for your application? Here is a list of the most common types of forklifts available for materials handling today in Australia.
Different types of forklifts
As you can see with such a wide variety of forklift types available, it can be easy to make a mistake. Let's run through these items one by one with pictures of different types of forklifts.
---
The hand manual pallet jack or pallet lifter is widely used in warehouses around Australia. The Hammer premium pallet jack has been rigorously tested and developed for tough Australian conditions.
From long lasting super tough polyurethane abrasion resistant wheels to super strong cast pump to ensure you never get let down. A new 54mm thick optimally strengthened alloy steel frame ensures you can lift up to 2500kg loads comfortably time and time again. If you're looking for a pallet jack that's going to last The Hammer is the one. If you are looking to buy a pallet jack you can contact our offices or use our online shop to purchase.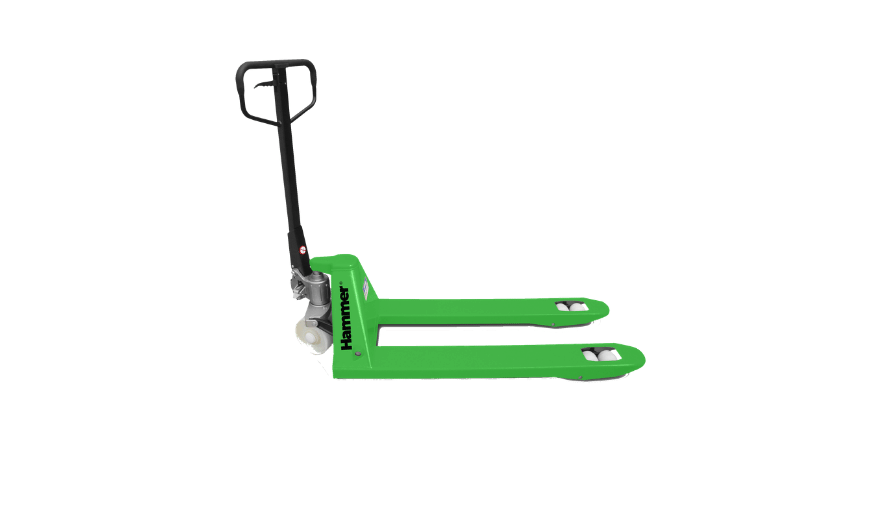 Battery powered electric pallet truck
Why struggle around the warehouse with heavier loads when all you require is a little battery power to make your life that much easier! This forklift is essentially the same as a manual pallet lifter but battery powered for the heavier loads.
 Our Hyundai high performance 15 SE Semi Electric Truck is the new choice of entry-level electric pallet truck. effortless raising and lowering of loads at the press of a button, magic! Affordable and reliable these are really a warehouse must have's and make life so much easier.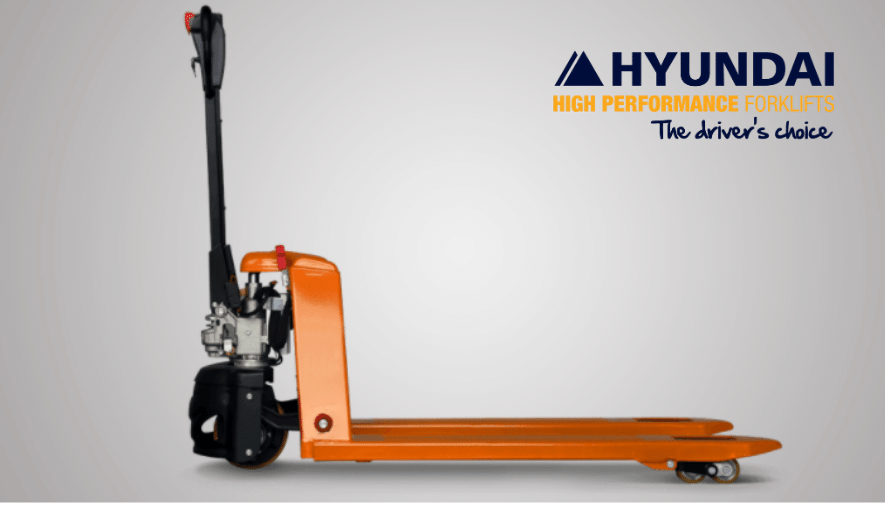 The premium Hammer range of forklifts offers two versions of this highly desirable walk behind forklift, because its just no fun when your under pressure and your workhorse has decided to let you down. The standard and high range Hammer series have been designed from the ground up to ensure operational efficiency.
From its high-powered AC drive motor requiring minimal
maintenance to its innovative regenerative braking system
and anti-slope slide feature, this walk behind fork truck is
the ultimate king of the warehouse. It's an absolute beauty
with power steering and simple to manoeuvre.
Cold storage option is available and ideal for breweries, bottle stores and just about any cold storage operation. Contact us for availability and pricing.
A walkie stacker makes for an ideal solution for working in warehouse aisles. Like a battery powered pallet lifter this forklift can lift pallets relatively high into racking. Using the power steering tiller arm its simple to manoeuvre in tight narrow aisles and is strong enough to get the job done. Mostly used for transporting & lifting pallets where a forklift may not be able to operate or is not necessary such as storerooms and small warehouses. They also make for a great backup to a forklift.
Take our SRT 1.6-ton pedestrian walk-behind stacker. This is the ultimate go to when you are looking for an affordable walk behind stacker forklift. With a high-speed AC motor delivering 9.5 Km/Hr and features like an anti -slope-slide function, curve control and Li Ion battery options ensure this forklift just keeps on going. Safety first which is why we have included a soft-landing system to protect loads and operators. Visibility has been vastly improved with the new mast which has multiple safety benefits for the operator.
With warehouse space at a premium the only way is up! The stock picker allows the operator to be lifted safely up to the racking system and to perform manual picking of stock from higher up. Safety for the operator is a real concern and when considering these units its wise to buy a premium brand like Hyundai where exhaustive R&D has been done and an extremely safe and efficient machine is on offer.
Hyundai's newest heavy-duty order picker, the BOP-9 has an enhanced ergonomic design and safety features
We stock a wide range of stock pickers for sale for all warehouse applications.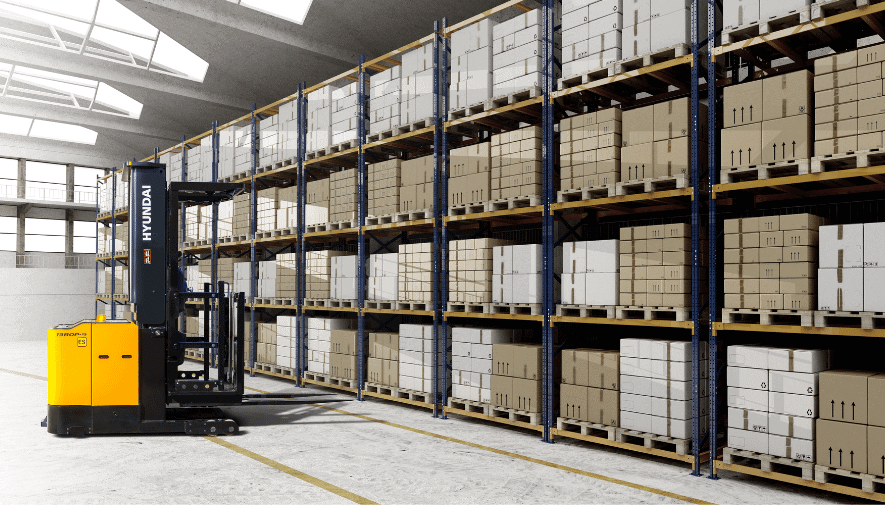 Often referred to as the backbone of any warehousing operation these machines are just awesome. Able to lift and shift loads of varying capacity and size around the warehouse often in tight spots with little to no effort. The key feature of reach trucks is the ability to extend its tynes forward and reach into warehouse racks with great precision thanks to an open styled cabin designed for maximum visibility.
The Hyundai 9-series battery forklift trucks are newly designed Sit down reach trucks providing the operator comfort, increased productivity and easy maintenance.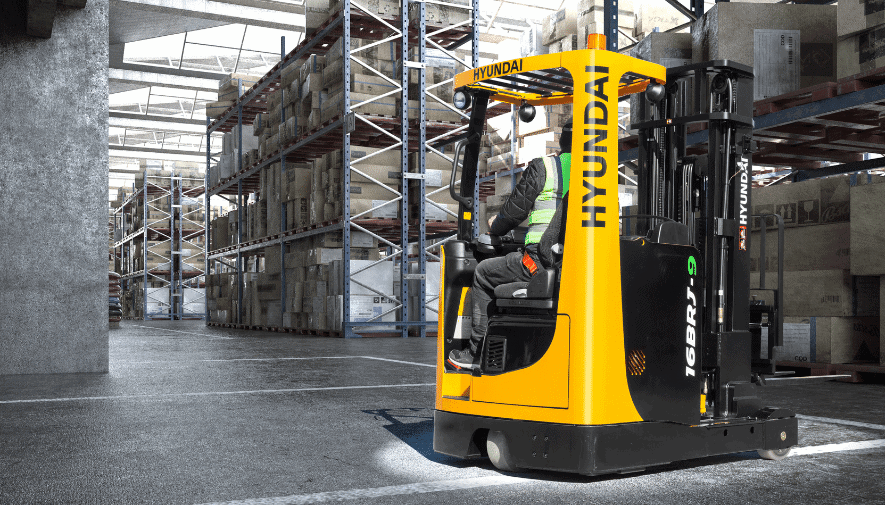 A counterbalance forklift is exactly as it suggests. A heavy weight at the rear counters the weight being picked up at the front. Typically, the counterweight is made from steel and depending on machine size can weight many thousands of Kg. People make the mistake of assuming a 2.5 t forklift wights 2.5 t. Nope nothing could be further from the truth.
Industry rule of thumb suggests a forklift is 1.5 to 2 times the lifting weight. So, a 2.5t forklift could weigh as much as 5 t with the counterbalance. This is useful to bear in mind for transporting the machine should you need to.
At Lift Equipt we stock a wide range of counterbalance forklifts from the electric Hyundai 20B-9 to the mighty CVS Ferrari all-terrain counterbalance forklifts as seen below.
Looking for a forklift in Perth or WA? Contact us today for expert advice and an obligation free quote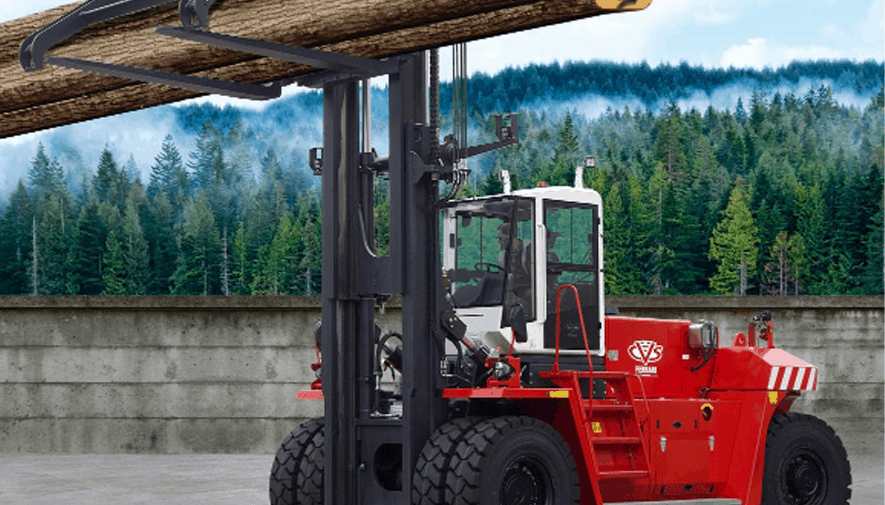 Your yard or warehouse setup or product like timber or steel may require a side loader forklift. The side loader forklift is designed to carry long loads supported on the side of the machine rather than the front. A benefit of a side loader set up is operator visibility and safety as the load is on the one side not in front of the machine.
The BP side loader by CVS Ferrari in Italy is the industry gold standard when it comes to side loaders.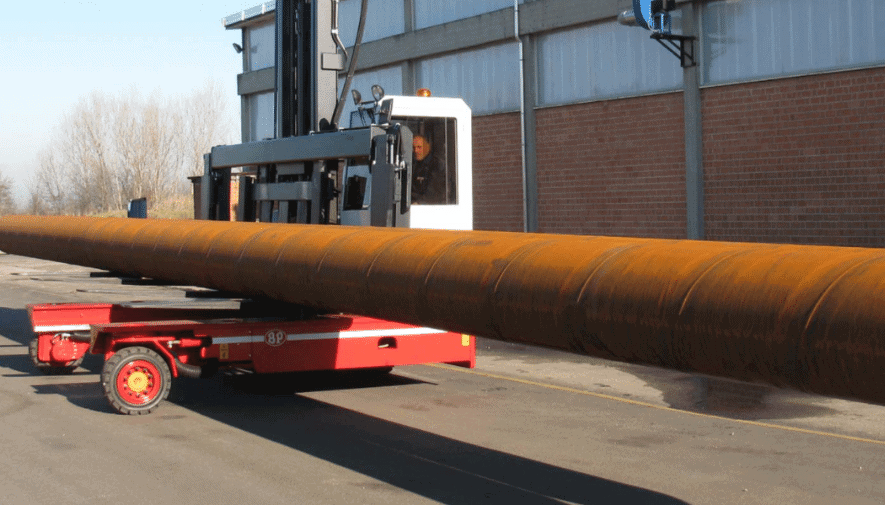 Lifting and shifting can occur and a variety of environments so what happens when you need to move materials in rough, uneven conditions? Specialist transmissions, all-wheel drive and bigger wider tyres with loads of ground clearance are all characteristics of a all-terrain forklift. Lift Equipt are the off-road forklift specialists with premium brands including AUSA and CVS Ferrari. These machines have been specifically developed for rough conditions and are exceptional performers.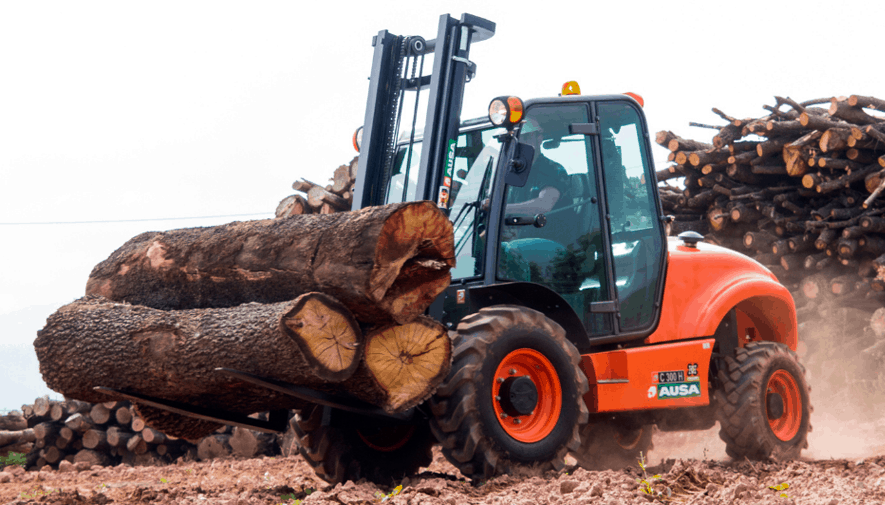 A telescopic handler or telehandler as they are widely known is a hybrid multipurpose machine that incorporates a boom that can extend like a crane and the lifting abilities of a fork truck.
A telehandler is one of the most utilised pieces of plant in the construction, mining, and agriculture sectors globally. With the ability to replace up to 5 machines onsite in complete safety they are the go-to for savvy construction crews. With literally hundreds a different attachment they can transform from a forklift to an overhead crane or work platform in a matter of minutes.
The Magni range of telehandlers in Western Australia is handled by Lift Equipt. With multiple awards, this machine is not only safe but incredibly efficient.
As distributors in WA of the worlds most advanced telehandler we welcome any enquiry and will gladly demonstrate the efficiencies and ROI this incredible machine can achieve. Contact us.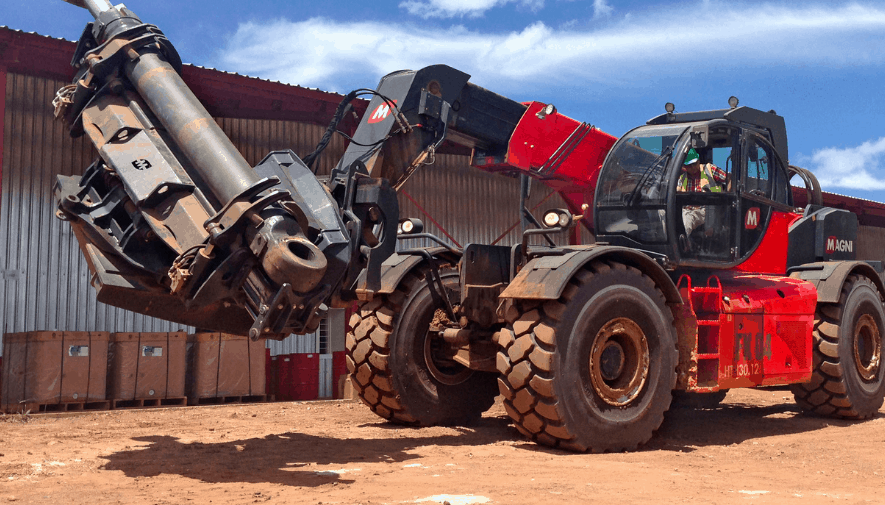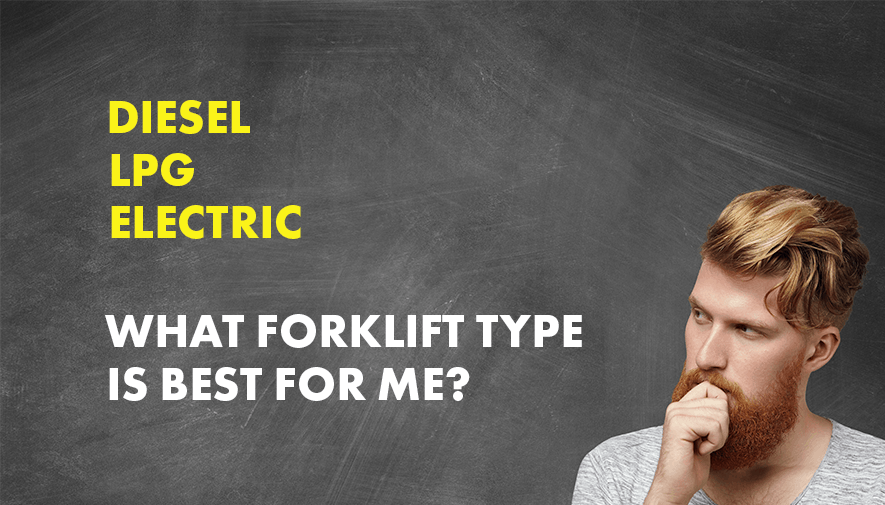 When talking about forklifts, LPG, electric and diesel engines all result in different lifting capacities and sizes to suit different working environments. So how do you know which fuel type best suits your business?
The team at Lift Equipt have put together a comprehensive guide to the different fuel types and how each type could benefit your day-to-day operations.
Liquefied Petroleum Gas (LPG) Forklifts
Also known as gas forklifts, LPG forklifts are a popular choice for businesses who are looking for a forklift that can maintain 100% power throughout the day, is competitively priced and is suitable for both indoor and outdoor work.
LPG forklifts have lower upfront costs, as they do not require recharging equipment or batteries – you just need to have a gas bottle handy for when your current bottle runs out. Also, as these forklifts do not require batteries, you won't need to organise safe battery disposal.
LPG forklifts can help to keep your business' productivity high by ensuring less downtime.
Unlike electric forklifts, LPG forklifts do not require substantial time for refuelling; it generally only takes around five minutes to refill or change an LPG cylinder, compared to up to eight hours to recharge an electric forklift.
Better Performance and Power
LPG forklifts typically exceed the power found in their electric and diesel counterparts, thanks to a better power to weight ratio and more responsive engines. With LPG forklifts, you will find that they can carry considerably-sized loads at a faster rate, for a longer amount of time than their electric counterparts.
With the flexibility and manoeuvrability found in LPG forklifts, you could be mistaken for thinking they are only suitable for small loads. However, LPG forklifts typically carry loads of up to seven tonnes!
These versatile forklifts can be used both indoors and outdoors, which is an ideal solution for businesses who have yards and warehouses.
If your business is looking for a quiet forklift with no tailpipe emissions, to undertake operations in an indoor environment, then an electric forklift may be the ideal solution.
Electric forklifts work well in an indoor environment, as they do not emit fumes, unlike their LPG and diesel equivalents. They are also much quieter than the other forklift types, thanks to the battery-powered engine.
Electric forklifts are typically smaller than the other types of forklifts. Depending on your needs, you can find electric forklifts in four-wheel or three-wheel counter-balance designs. The compact size of electric forklifts means they are extremely moveable, and perfect for small and complex warehouses.
Running on a battery means no harmful gases are emitted into your warehouse whilst the forklift is in operation.
Electric forklifts generally have lower maintenance costs than LPG or diesel forklifts, as they don't have an engine, transmission or radiator that requires regular maintenance or repair.
As they run on battery power, electric forklifts are ideal for warehouses with smaller load-lifting requirements.
These forklifts require a charged battery to operate; businesses can invest in spare battery packs and chargers for their forklifts to ensure there is always a charged battery to keep the forklift running.
For businesses with 24/7 operations or large-scale outdoor forklift requirements, an electric forklift may not suit your individual operational needs.
If your business needs a forklift for heavy loads in an outdoor setting, then a diesel forklift may be the best option for your operations.
Of the three forklift types, diesel offers the heaviest lifting capacity. Diesel forklifts can lift to 25 tonnes, making them good for large yards or heavy-duty operations.
Thanks to the higher torque in their engines compared to LPG forklifts, diesel forklifts operate better on gradients and can accelerate and lift at a higher speed.
Diesel forklifts are noisy operators that emit exhaust fumes, which makes them unsafe for indoor operations, but ideal for your outdoor requirements. Businesses can invest in exhaust purifiers to reduce the emissions from their machinery.
Compared to LPG forklifts, a diesel forklift is more fuel-efficient. A tank of diesel fuel (50-litre average) will last substantially longer than an 18kg bottle of gas, allowing you to spend less time worrying about refuelling.
Lower Maintenance and Long Life
As diesel forklifts have sturdier engines and operate at lower "revs" than LPG, the engine of a diesel forklift tends to endure more years of use than an LPG forklift. Maintenance costs for diesel forklifts also come in cheaper than LPG forklifts.
Materials handling experts for more than 20 years
If your business requires a forklift, or you have questions about anything forklift-related, speak to the friendly, knowledgeable team at Lift Equipt. Our specialist team can help you find a forklift solution for your business individual needs. Our team of friendly experts can assist you with your materials handling requirements.
From telehandler sales hire and service to forklift sales hire and service, including used forklifts for sale call us today or fill in the form and one of our team will be in touch.
Get our latest blog posts delivered to your inbox
Subscribe and get weekly digest of most popular blog posts
keyboard_arrow_leftPrevious
Nextkeyboard_arrow_right