---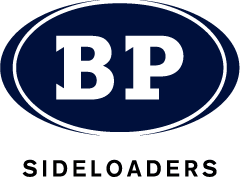 BP SIDELOADERS FORKLIFT TRUCKS
HEAVY OR SPECIAL MATERIAL HANDLING SOLUTIONS
---
---
---
BP has been dominating the Side Loader market since 1959. A well known leader in the manufacturing and design of lift trucks, BP side loaders are also now a permanent fixture of the Lift Equipt product range.
---
---
Lift Equipt only stock the highest quality equipment from brands with top-notch reputations, which is why we stock an extensive range of BP side loaders.
BP has dominated the side loader market since 1959 with a range of side loader forklifts – from multi-directional to LPG and even electric models – there is a side loader in Lift Equipt's range to suit your company's needs.
What is a Side Loader?
A side loader does just what the name suggests – it is a forklift that is able to load and unload from the side of the machine, speeding up productivity even when the load is inaccessible to a front-loading forklift.
A side loader can simply pull up next to the rail, rack or truck and unload from the side rather than the forks being located directly in front of the equipment.
With the load is stabilised on a flat bed and the driver given optimum visibility from both the back and front, a side loader results in safer movement around your warehouse or yard.
Side Loader Uses
For companies looking to maximise the space in their warehouse or yard, a BP side loader is an ideal addition to your arsenal of machinery.
The side loader is perfect for working in doorways and narrow aisles and longer loads such as steel and timber can be better handled because the load is facing the direction the machine is travelling in.
This can reduce the width of the load and has useful applications in any industry where long materials are regularly loaded and unloaded, both indoors or outdoors.
If you want to maximise your warehouse space, big or small, we can help find the right lifting and transporting system for you.
---
Start the conversation
We're here to help you find the right solution for your business and budget. Simply complete this form and one of our team members will contact you within two hours
keyboard_arrow_leftPrevious
Nextkeyboard_arrow_right
---