What to look out for when buying a second hand forklift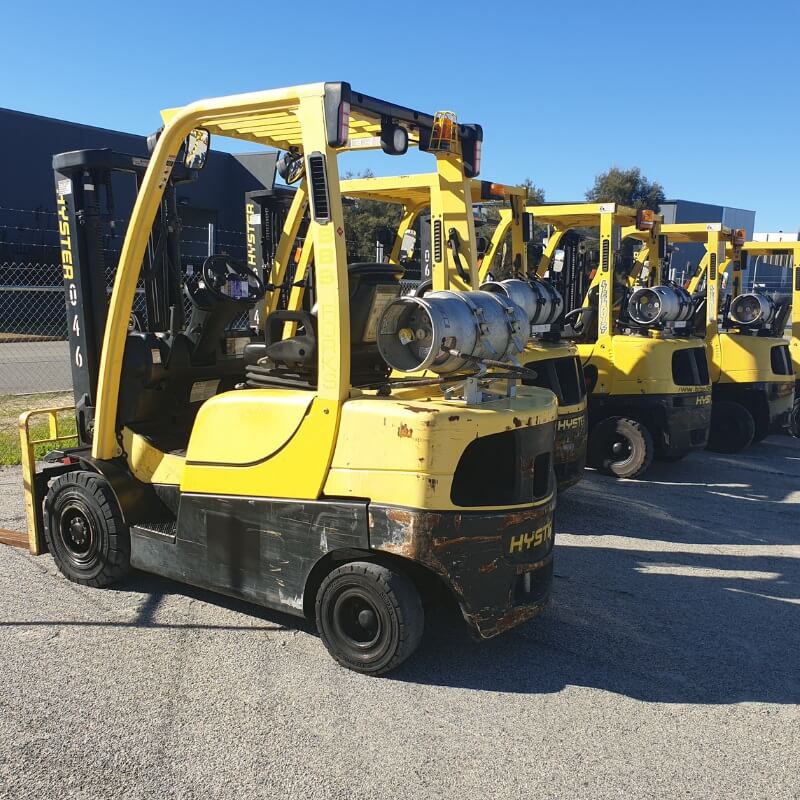 A new forklift purchase can be a significant investment for any business and there are several factors to take into consideration before you sign the sales agreement.
Our team of forklift and heavy lifting experts will evaluate and asses your needs and requirements looking at variables such as the size, height and weight of your materials, how low or high are you planning to store them and the dimensions of the space in which you will be doing the lifting and shifting.
After careful consideration, we will match you with the best forklift solution at the most competitive price.
We pride ourselves on our superior service and quality when it comes to forklifts. Our extensive range of new CVS Ferrari fork trucks and Hyundai forklifts are fully equipped to suit any requirement regardless of where your business is located in Western Australia.
We are the sole authorised Hyundai Forklift Dealer in WA, servicing clients throughout Perth, The Pilbara and Kimberley, including Karratha, Broome, Port Hedland and their surrounding towns and mine sites.
Types of Forklifts We offer
Whether you need a small walkie stacker manual or electric to move a pallet or a heavy-duty CVS Ferrari reach stacker or ECH (Empty container handler) to shift 40-foot sea containers effortlessly, we can help.
We stock a wide range of Hyundai forklifts and equipment ideal for lifting and shifting materials across small distances and maneuvering through narrow spaces.
So, if it's a machine for shipping port and container yard work you're after, our heavy-duty forklifts, reach stackers and empty container handlers ECH's are well suited to the task. Our CVS Ferrari high capacity intermodal and bulk handling reach stackers are built to lift extremely heavy loads, even with a distant centre of gravity.  Unmatched in their durability and strength, these heavy-duty lifters set the bar when it comes to ROI, safety and ease of use including maintenance.
Forklift drivers license and tickets Perth
Though that might sound complicated, the best thing is, our machines are relatively simple to operate. With our flexible training options, licensing couldn't be simpler, so if you need a ticket for a new job or are just looking to upskill, our training coordinators can get you licensed and behind the wheel of a forklift in no time.
Electric Forklifts
The Hyundai Electric Range is quickly building a stellar reputation for their performance, build quality, long battery life and value for money
LPG Forklifts
Forklifts fueled by LPG have long been a popular choice for businesses due to their stability, suitability for use indoors and outdoors and value-for-money pricing.
Diesel Forklifts
Diesel machines are the heavyweight lifters of the forklift market and as a result, need a heavy fuel source. So, unlike their electric and LPG equivalents, diesel-powered forklift trucks are ideal for mainly outdoor use
Why You Should Buy Your Forklift From Lift Equipt
At Lift Equipt, we guarantee top quality and reliable equipment to suit the needs of your business. This is why our expansive range includes electric, LPG and diesel forklifts, side loaders, reach stackers and container lift trucks ranging from one to fifty-two tonnes.
Our team of forklift specialists are ready to match the exact machine to both your needs and your budget. And, if you are unsure how you're going to get the equipment to your job, we have transport options available to get your equipment out to you.
Working across four convenient locations – Perth, Broome, Karratha, Port Hedland – we're never far away for any maintenance and servicing requirements and we boast a 24/7 emergency forklift call out service.
We also offer rent-to-buy packages and can even arrange finance so you can get to work sooner.
We have been servicing clients since 2006 and pride ourselves on our end-to-end customer service, from your first enquiry through to ongoing after purchase care with forklift and equipment servicing options.
Let us take the heavy-lifting out of your decision.
Call our friendly team of equipment experts today to discuss your requirements on 1300 44 44 22 or contact us for a no-obligation quote.