Instant Asset Write Off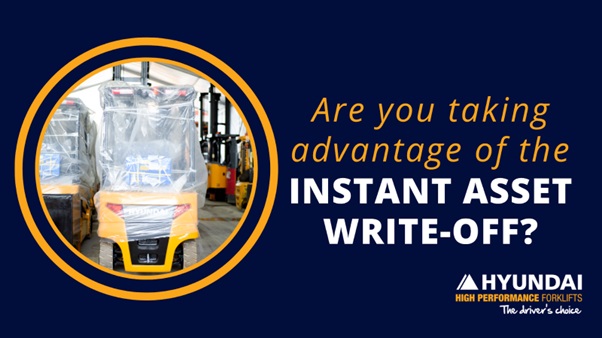 ---
What is the Instant Asset Write Off?
---
The incentive was introduced to drive investment and assets. It is typically for assets purchased up to a value of $150,000. There is no limit to the number of assets that can be purchased (at the $150K limit).
---
---
Who qualifies for Instant Asset Write-Off
---
The incentive is aimed at small to medium-sized companies, but given the high qualifying aggregated turnover amount of less than $500 million, many larger businesses will qualify for the incentive too.
---
---
What does this mean for your business?
---
Normally if you buy a forklift, you could only claim the depreciation of the asset over the time that you own it, usually around 5-7 years. Now with Instant Asset Write Off, businesses can claim the depreciation as one upfront payment at the end of the financial year in which it is purchased. This will increase your expenses and in turn, reduce the amount of tax owed this year.*
This can also be a great opportunity for businesses to bring forward investment decisions that would have otherwise not been possible. Allowing your business to benefit from the productivity of a new forklift or forklift fleet, years ahead of schedule.
---
---
What do we recommend for businesses?
---
Audit your operations and establish if a new forklift will aid in productivity and efficiency.
Discuss the Instant Asset Write Off with your accountant and determine if your business will benefit from this incentive by getting professional advice.

Speak to your local dealer about financing options and stock availability.

Decide as soon as possible before 30 June, as the asset needs to be purchased and first used within the financial year of the claim.
*Independent advice from your accountant is necessary as this is general advice
---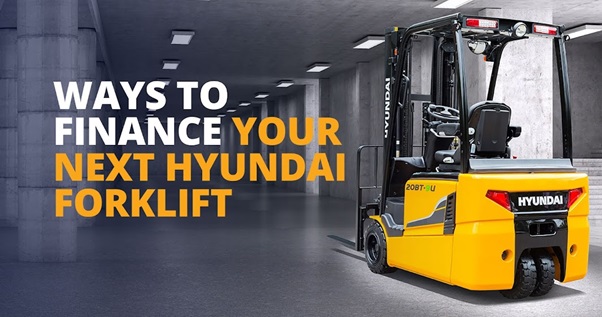 ---
Which finance solution is right for you?
---
You can purchase your next forklift outright, however, Hyundai High-Performance Forklifts also provide alternative solutions for funding your next forklift.
If you're not sure then we can work with you to review your financial situation and ensure we find the right solution for you. Whether it's aligning business cycle cash flow to funding terms or releasing equity in business assets to grow, consolidate, acquire or de-risking; we can help navigate the best option.
Whether it's a Rental, 'Rent to own,' or Chattel Mortgage (Loan), with our simple finance application process you can choose the right finance option for you, with terms ranging from 12-84 months.
---
---
RENTAL
Renting your forklift can be more cost-effective than purchasing it outright. Under a rental agreement, Hyundai can lease a forklift for a fixed term. After the end of the leasing agreement, you can choose to return, continue to rent, replace, or purchase the forklift.
The benefits of our Rental Agreement are:
Rentals provide access to the latest technology without the price tag.
Your forklift doesn't devalue as an asset, as there is no transfer of ownership.
Accounting for an operating lease is simpler.
Ongoing running & maintenance costs can be included in one (1) monthly payment.
Lease payments may be tax-deductible*.
The renting company does not carry any residual value risk and at the end of the term, they can elect to either continue renting the equipment, return the equipment or upgrade the equipment to a new asset at no cost.
Someone else takes responsibility for the equipment at the end of the term.
Align the term of your successful work contract to the rental of your equipment.
RENT TO OWN
Owning a forklift has never been easier. With the Hyundai High-Performance Forklifts' unique 'Rent to Own program, you can lease for five years and it's yours. There are no large upfront costs or exit fees upon completion. Simply make affordable weekly or monthly payments and you will own the forklift at the end of the contract term.
With our 'Rent to Own Program, you get the financial flexibility and maintenance advantages of our rental solution with the long-term value and satisfaction of owning a quality forklift.
CHATTEL MORTGAGE
This is an equipment financing option that allows you to own your forklift upon purchase with the finance company, by securing the loan and registering a charge over the forklift.
Benefits:
You will own the equipment, instead of hiring, renting or leasing.
You can set a higher Balloon Value to enable lower payments during the term.
Repayment terms can be designed to suit your business needs.
Depreciation on the equipment and the interest component of each loan instalment may be tax-deductible*.
You may be able to claim the GST input credit upfront on the purchase price of the equipment*.
MASTER LIMIT
A pre-approved funding limit available for you to use now and in the future for purchases from Hyundai High-Performance Forklifts. The benefits of a Master Limit include:
Flexibility to purchase equipment without going through the application process each time.
Your credit purchase limit is known upfront so planning future purchases is easy.
No cost or no obligation to use the full amount available.
Diversify your debt away from your main banking facility.
---

---
ELEVATE YOUR BUSINESS
Our fleet management teams support the needs of businesses helping them select the equipment that fits their exact needs and delivers the lowest total cost of ownership per operating hour whilst delivering superior productivity or efficiency.
A CUSTOMISED APPROACH
Our specialists take the time to thoroughly evaluate the specific requirements of your business in order to formulate a fleet management strategy that ensures you get the equipment, services and support you need to maximise CAPEX dollars and increase operational efficiencies, lower your operating costs and improve your bottom line.
---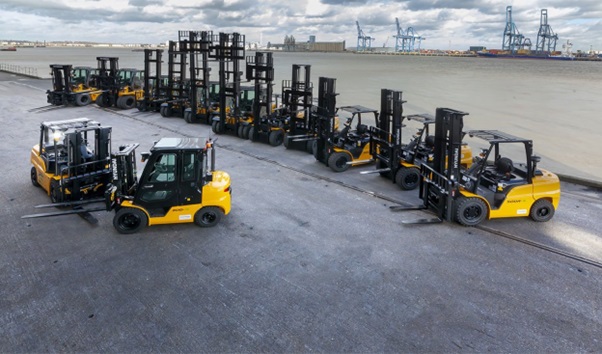 ---
A COMPLETE SOLUTION
With our fleet programs, we look at the Total Cost of Ownership where both lifecycle management and equipment uptime are critical. To achieve an optimal outcome, we evaluate each customer's requirements based on our Total Cost Equation that ensures that Total Costs are at their lowest average and productivity at its highest.
THE BENEFITS OF PARTNERSHIP
Hyundai Forklifts offers an extensive range of products and services tailored to various market segments that have enabled the creation of the optimal fleet leasing solution.
Hyundai Forklifts delivers world-class solutions to suit individual customer needs and requirements. From fully maintained operating leases through to pure fleet management services for corporate, government and small to medium businesses.
Hyundai Forklifts' experience in fleet leasing enables all clients to receive the latest technological advancement in fleet management and reporting. With Hyundai Forklifts creating a leasing solution that is tailored to each unique business, it allows organisations to easily manage their fleet and receive the latest software and product innovations.
---
keyboard_arrow_leftPrevious
Nextkeyboard_arrow_right