keyboard_arrow_leftPrevious
Nextkeyboard_arrow_right
keyboard_arrow_leftPrevious
Nextkeyboard_arrow_right
keyboard_arrow_leftPrevious
Nextkeyboard_arrow_right
What is a reach stacker? Reach stackers have become synonymous with the intermodal sector and container handling activities, however they are often used in various industries with specialised attachments to carry out a wide range of activities and materials handling tasks. Incredibly robust these vehicles can load trucks with containers, offload them and stack fully laden containers or empty containers in a yard, but one reach stacker brand stands out above the crowd.
Reach Stackers Engineered to Last
CVS Ferrari having been producing quality reach stackers since 1974 and offer a wide range of innovative solutions for container handling and industrial applications. In terms of lifting capacity, efficiency, safety, and productivity CVS Ferrari have very few if any competitors. Superior engineering and a fierce determination to dominate the sector has seen a host of standout features like third-party certification of all structures to DIN 15018/H2 B4 (Crane standard) This extends the service life of the machines which translates into a greater return on investment and lower cost of overall ownership.
Every aspect of the ownership experience has been carefully mapped out and considered take for example our unique Dynamic Stability Control system for lift and carry operations. A driver optimisation function maximises operational safety whilst minimising tire wear, further reducing operational costs. Contact us today for the latest Ferrari reach stacker price and availability as well as reach stacker rental options and reach stacker parts.
Welcome Aboard the Future
Intuitive, intelligent, and safe. The CVS Ferrari features a space-age cabin with a futuristic cockpit that's not only the roomiest in the industry but the most high tech. Drivers air ride seat, electric defrost windshield a joystick and a host of easy to use functions make operating this machine a drivers dream.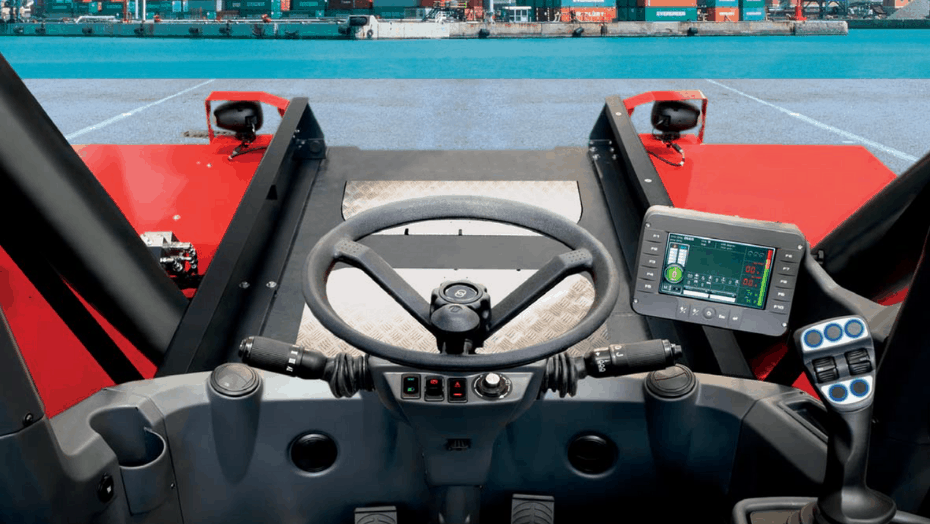 The CVS Ferrari F500 reach stacker provides real time monitoring and lifetime data tracking analysis. Live operational activities including tables, graphs, geo location, cameras, logbooks, and the ability to control the vehicles speed etc make this an incredibly versatile option. Operational statistics and a logbook enable real time data analysis and optimisation. We have made race car technology available on heavy duty machinery where tire wear, engine optimisation and distance travelled can make a serious impact on your companies bottom line, because they are all now available real time to discuss and optimise.
Reach Stacker Accessories
Ferrari designs and manufactures all its reach stacker attachments with zero compromise in functionality, reliability, or safety. Block stow combined top and bottom pick spreaders with grapples are available along with the following attachments
Slab clamps
Slab magnets
Pipe clamps
Vacuum attachments
Rotating or coil rams
Coil clamps and flippers
Winched or fixed hooks
Beams
For applications where visibility is restricted the reach stackers can be equipped with a hydraulically driven sliding cab and or an elevating side mount cabin.
So for container reach stackers for sale call us today at Lift Equipt as reach stacker prices vary.